Reaching your government representatives
Understanding different layers of government can be confusing, especially with so many different names and titles involved — and we're here to help. At the national level, Philadelphia has three districts in the U.S. House of Representatives, and two elected officials represent all of Pennsylvania in the U.S. Senate. In Pennsylvania, our state Legislature has two branches, which together form the General Assembly: the upper house, which is the State Senate, and the lower house, which is the House of Representatives. The General Assembly creates new laws for the state, approves the state budget, and more.
The 16-member Philadelphia City Council proposes, debates, and passes legislation that governs the City of Philadelphia. It works to pass programs and bills that aim to help Philadelphians with property and housing, public safety, green space preservation, and more. Some local policies, like many gun control laws, are preempted by state legislation, and are therefore out of the jurisdiction of City Council. On this page, you'll find information on how to reach officials in both Philadelphia and Harrisburg, ways to share your perspective in local media, and details on getting involved with a program designed to make your block safer.
For more detailed information on City Council districts, check out Committee of Seventy, which aims to improve the voting process and our political culture through clearly explaining how it all works.
Your experiences with gun violence and public safety are important, and we want to make sure the leaders you elected are hearing about them as they make decisions that can shape your life.
How to contact your City Council member or state representative
To find your legislators, just head to this website. Once there, type in your home address. The site will send you to a page that lists your representatives. It will also tell you which districts you live in — districts, plural, because those numbers can differ depending on which level of government you're looking at. Hang on to that information, because it'll help you find your councilmember. It'll also be useful the next time there's an election you can vote in.
With your district numbers handy, go here to find your councilmember and their contact information.
Finding local gun violence numbers
Many Philadelphians feel the toll of gun violence on a personal level. Knowing how and where gun violence is affecting Philadelphians can ground solutions — and the arguments you make to support them — in reality.
This tool, from the Office of the Controller, shows the up-to-date number of reported shootings in Philly. The map shows you instances of gun violence throughout the city. You can filter by victim gender, race/ethnicity, age, and more.
Speaking at a public hearing
State government
Many divisions of our state government hold public hearings that you can participate in. For example, Pennsylvania General Assembly and Senate committees live stream their regular meetings, which have topics ranging from public safety to education. Visit the session information page to view their calendar, session notes, and to find streaming links. For a list of the gun violence bills that Pennsylvania's state Legislature is considering, go here.
Local government
If you're hoping to be active in our local government in Philly, you should consider speaking up at a City Council meeting. Did you know that you can actually register to speak at one of their legislation proposal meetings? First, go to this webpage and search "gun violence" to see how the City Council has been discussing shootings in our area. Next, go here to see its hearing schedule and upcoming agendas.
Once you find the hearing you want to speak at, call 215-686-3406 by 3:00 pm on the Wednesday before that council session and provide your full name and a callback number so you may confirm your testimony.
See below for an example of how to give testimony. Because talking about gun violence can be upsetting, you may also wish to check out local resources for mental wellness.
Testimony Template from Common Cause (for oral or written testimony)
Testimony [in support of/in opposition to]:
[Bill Number] [Bill Title]
Submitted by: [Your Name] [Your address]
Dear Mr./Madam Chairperson and members of the [committee name]:
Thank you for the opportunity to provide testimony in support of/in opposition to [bill number].
My name is [your name] and I am [tell them who you are: citizen, expert in your field, concerned parent, someone directly affected by the proposal, etc. Identify any organizations you are representing and any official positions you hold].
This issue is important to me because [relate your personal reasons]. I [support/oppose bill number] because [give your one to three supporting facts/arguments].
I believe the best way to address this situation is to [suggest positive ways to address the issue].
I appreciate the opportunity to testify about this issue before this committee, and I look forward to your questions.
Writing letters to local officials
Letter writing may be a lost art, but it can be a powerful tool for constituents like you. In a letter to your local representative, you can explain why you're for or against a certain bill, how it relates to you and your community, and how you want them to vote.
Look through this resource from Common Cause for information and see below for an example of how your letter to a state representative could look. Go here to see the current gun violence legislation and bills in Pennsylvania and here to learn more about what our local city council is talking about.
Letter to officials (one page long or 500 words in an email)
Dear Representative [Last name]:
_My name is [Your Name] and I am a resident of the ___ section of Philadelphia, which is within your district. Like many Philadelphians, I have been directly affected by gun violence in my city and I would like to share my story with you. _
[Here, write anything that feels important to you. Your role in your community, your relationship with gun violence, etc.]
_I'm writing to you in [support or opposition] of [bill number/title]. (NOTE: if a bill does not yet exist, explain here what you would like to discuss with them.) _
I [oppose/support] this legislation because I believe it would [negatively/positively] impact myself, my loved ones, and my community. [Here, give ONE TO THREE reasons why you believe the legislation would positively or negatively impact your community.]
Thank you for taking the time to read this letter and I am hoping you vote [for/against] bill [number]. I would be happy to provide any further information about my stance and would love to talk more about this. Please either respond via email or a letter to my return address.
Sincerely,
[Your name] [Your full address]
How to address a letter to your state rep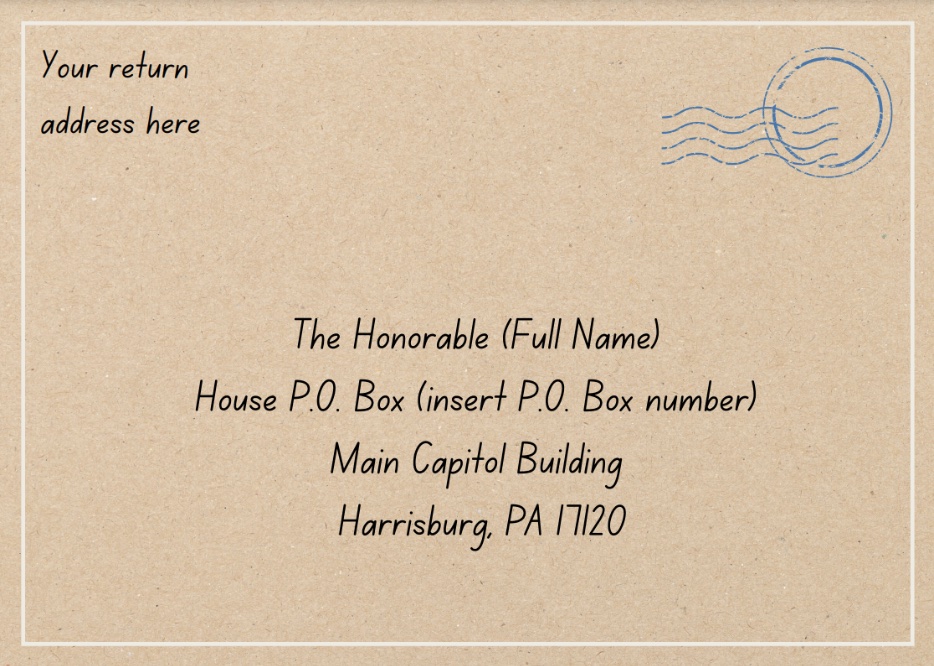 Writing a letter to the editor/opinion piece
Several publications in Philly hold space for you to share your thoughts with more than just your neighbors. Philadelphia Tribune, The Philadelphia Inquirer, and WHYY PlanPhilly are just a few of them.
When you're getting started, it's important to write down your ideas in a thoughtful and direct way, conduct research to support your argument, find the media outlet you want to submit your letter to, and make sure your piece fits within the publication's requirements. You can often find those on their websites — look for pages that solicit letters to the editor or op-eds.
A few words from an editor
As an editor at The Trace, I sometimes field letters to the editor and op-eds. When deciding whether to publish them, I look for a few things:
Relevance: Is this related to our coverage, or a story we've published recently?
An argument: Is the piece making a clear point?
Logic: Are there facts to support that argument, and is it organized in a way that makes sense?
Beyond those three fundamentals, it's always great to get a sense of someone's personality and voice — the thing that will make your writing better and unique! Once a piece is accepted, be prepared to work with an editor to revise it. There might be a few rounds of discussion, but please know that it's in the service of making your piece more accessible to a publication's readers. And always know that if you feel like your voice is disappearing, you can say so. It's your name on the piece, after all.
If you're looking for an example, here's one I edited for The Trace fairly recently. Good luck, and happy writing!
What is a block captain, and can I be one?
Block captains act as liaisons between the community and the city, links between neighbors for better communication, and party planners. One of the main responsibilities a block captain will have is organizing block cleanups in order to promote pride in your community and togetherness. If this sounds like something you might be interested in doing, visit Philadelphia More Beautiful Committee (PMBC) to learn more and get started being a trusted point of contact for your neighbors.
If you want to find out if you already have a block captain, call Philadelphia More Beautiful Committee (PMBC) at (215) 685-3971.
Looking for more ways to get involved? The Philadelphia Citizen has an extensive list on how to do things like register voters and organize food drives.